Update 22 June 2020: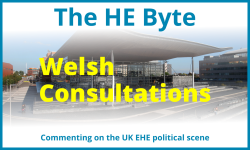 In a written cabinet statement, Kirsty Williams MS, Minister for Education has announced the planned changes which were consulted on in 2019 and 2020 will not be taken forward in this parliamentary session. She explained that the main reason for not taking them forward is the additional work generated by the Covid-19 pandemic.
More information is available here: Positive News for Home Educators in Wales.
The consultation below is now closed
Local authority education databases:
Launched 30 January 2020 – Closes 22 April 13 May 2020
UPDATE 22 April:
On the evening of 21 April, it was reported that the Welsh Government had sent out an email at about 5:30pm, to at least one person informing them that the deadline for responses to this consultation had been extended by 3 weeks. It now closes on Wednesday 13 May.
Protecting Home Education Wales have also reported that they have been informed of the delay. In both cases the stated reason is, "Due to the ongoing situation regarding the Covid 19 pandemic."
The Byte team were informed that the official webpage was only updated around 3pm today and that the WAG were aware that the update was not displaying on some people's devices. (This team member could only view the update around 6pm.)
If you were struggling to complete your response in before tonight's deadline, do take a breather, but please don't delay so much that you forget to submit it.
The Welsh Government is consulting on the Draft Children Act 2004 Database (Wales) Regulations 2020 and the Education (Information about Children in Independent Schools) (Wales) Regulations 2020.
The regulations will require:
each LA to establish and maintain a database to assist them in identifying children not on any maintained school's roll, education other than at school (EOTAS) roll, or independent school roll, and not receiving a suitable education
local health boards to disclose to LAs non-clinical information about a child who is ordinarily a resident in that LA's area
independent schools to disclose information regarding learners registered at their establishment to a LA
Consultation documents
How to respond
Please note: You do not have to be a resident of Wales to respond to this consultation.
Update 19 April: We have been given permission to make this quick guide to responding to the consultation available to our readers. Thank you to those who prepared it.
On 17 April Protecting Home Education Wales posted a copy of their submission on their website. It contains a copy of the summary of David Wolfe QC, legal opinion on the proposals and an exchange of letters with the Welsh First Minister. It is helpful for those who still have to complete their response to this consultation.
Bytes commenting on this consultation:
The consultation below is now closed
See bottom of page for a list of Bytes commenting on the consultation and subsequent events.
Home education: statutory guidance for local authorities and handbook for home educators
On 29 July 2019, the Welsh Government launched a twelve week consultation seeking views on draft statutory guidance to help local authorities identify children not at school and to ensure they are receiving a suitable education. The consultation closes on Monday 21 October. For some reason the deadline was extended to Friday 25 October at very short notice.

Please note: You do not have to be a resident of Wales to respond to this consultation.
---
An Important Petition: An e-petition was launched on 17 Oct. asking the WAG to withdraw these proposed guidelines. The Principal Petitioner is hoping that at least 5,000 people will put their name to it, because if they do it stands a very good chance of being debated at a full meeting of the assembly. You can read and sign the petition here: Withdraw the proposed home education guidance. This byte provides more details.
Update: This petition passed the 5,000 signatures mark on the evening of Sat. 26 October. Whilst they should enough to make sure it is debated, please continue to encourage people to sign it, as the more people put their name to it the more motivated Welsh Assembly Members will be to take the QC's Legal Opinion seriously. Thankfully one has already done so – Mark Isherwood AM is Shadow Minister for Communities and Local Government, and on 25 Oct. posted an update on his website stating he has already challenged the Welsh Government over its Draft Statutory Guidance for Local Authorities on Home Education – Welsh Government's Draft Statutory Guidance on Home Education is "unlawful"
---
Please note: an initial reading suggests that the on-line form is fully replicated in the "response form" file also available on the main page. This is welcome because respondents are unlikely to find any "surprises" when they attempt to complete the on-line form – unlike some English consultations.
The following documents were published as part of the consultation:
N.B. The final item outlines the WAG's plans for three 'Table Talk' Regional Workshops organised by "Cazbah and Markit" – these seem to be two separate companies Cazbah and probably IHS Markit. The sessions are planned to take place on the mornings of 11 Oct. Cardiff, 18 Oct. Llandudno & 21 Oct. Swansea. Parents thinking of attending with their children should note that the parent and children's sessions are planned to run in parallel, and no details of exact arrangements are provided in the above invitation.

Recently the HE Byte team were forwarded a copy of an email from the WAG which provides more details about these sessions. A copy of that email is available here.

Whilst this clarification is appreciated, the team at the HE Byte continue to encourage parents to think carefully before placing unaccompanied younger children in the children's sessions.

We suggest reading the Consultation document first, followed by the Response form, as this should help potential respondents to identify the issues which are and importantly are not covered by the response form.
We also recommend reading the full length draft guidance for LAs and the parents' handbook before the easy read versions. The latter are heavily abbreviated versions and consequently do not fully represent the objectives behind the proposed changes.
It should also be noted that the easy read versions are designed for people with disabilities and not for children. At the end of both there are forms which can be completed in a PDF reader and then saved for emailing back to the Welsh Government.
Documents by the HE Byte Team:
Alternative formats of the response form – aware that not everyone has a later version of MS Word, we have converted the downloadable response form into alternative formats:
.doc file – older versions of MS Word
.odt file – open document format used by free applications such as OpenOffice and LibreOffice
.rtf file – an older format which can be opened by most word processing applications including MS WordPad
A sample response:
We are very pleased to make available this draft submission prepared by someone with a working knowledge of human rights legislation. They offered it to us with the intention that we shared it with our readers.
We remind readers that in responding to this consultation they should not seek to copy and paste the answers given into their own reply. Identical responses are usually dismissed as part of a "campaign". Instead, please use your own words to express any of the points in this document which you agree with.
Bytes commenting on this consultation:
2019
2020