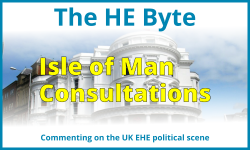 In the autumn of 2017 the Isle of Man government consulted on major changes to EHE as part of a proposed new Education Bill. At the end of January (2019) a draft Bill was published with significant changes proposed in many areas including EHE. At the same time they launched a further public consultation focussed "on those aspects which have changed significantly" since the 2017 consultation.
This consultation is now closed.
Below are links to the relevant documents along with additional information and resources.
Legal Opinion:
Bytes:
Links:
Important Information:
On 8 March The Education Minister informed the SAPR Committee that responses to the consultation may be submitted by letter as well as via the on-line form. Written responses should be sent to:
Mr Andrew Shipley, The Department of Education, Sport and Culture, Corporate Services Division, Hamilton House, Peel Road, Douglas, Isle of Man, IM1 5EP.
Andrew Shipley's email address can be found on this page.
Resources:
Parliamentary Exchanges:
Press Reports: not available as web pages
Images of original print articles – click to enlarge:

Radio Programmes: N.B. Listen again files and podcasts may expire